Computer Repairs
We can troubleshoot and repair your computers, usually right at your site.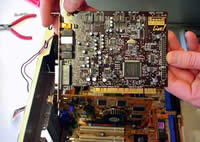 Whether your systems seems to be slowing down, you're getting strange error messages, your programs seem to crash for no reason or you have to reboot all the time, we can help you out.
By running diagnostics on your system, cleaning up your registry, hunting for viruses or looking for software conflicts, we can usually have your computer back to its old self in no time.
If your computer is suffering from a "terminal ailment", we can help you find an affordable solution.
Please call or e-mail us if your computer is giving you problems.