Custom Systems

If you need a new computer, we can build a custom system to your specifications.

We can save you money because we don't load your system up with software you don't want or need, like many pre-built system manufacturers do. All that unneeded software also slows your system down.
A custom system will provide you with everything you want and need, and none of what you don't.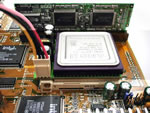 Call or e-mail us today for a quote on the system of your dreams.